Interacting with families has never been
easier!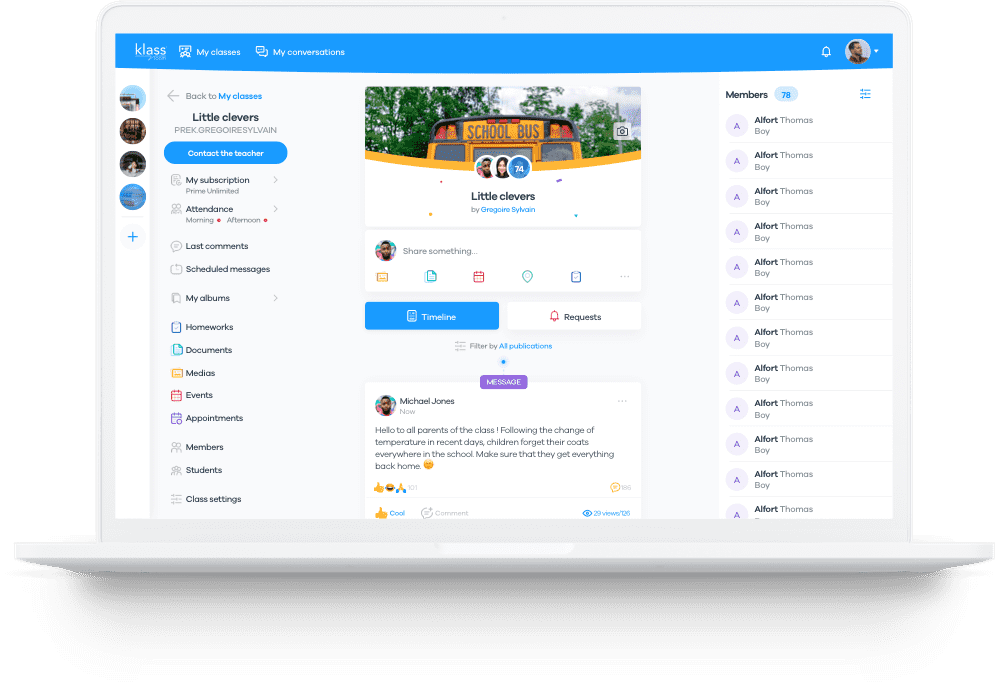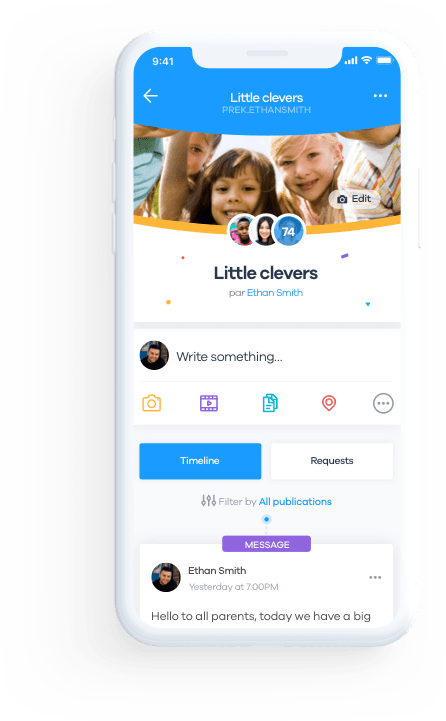 Klassroom is the most effective application to communicate with parents and increase parental engagement in your classroom!
It's

simple.
Know how to use Facebook, Whatsapp, Instagram? Then you already know how to use Klassroom
It's

effective.
80% of the parents will see your messages within a day
It's

inclusive.
Non-English speaking people will be able to read your messages translated in over 120 languages.
It's

free.
Free for parents, teachers, schools and local communities.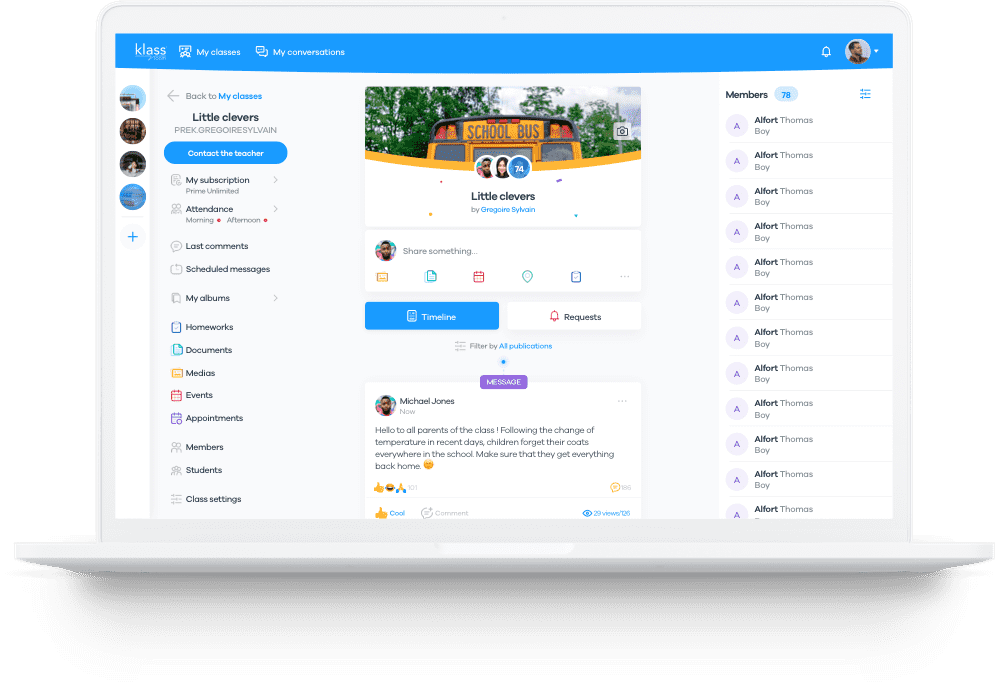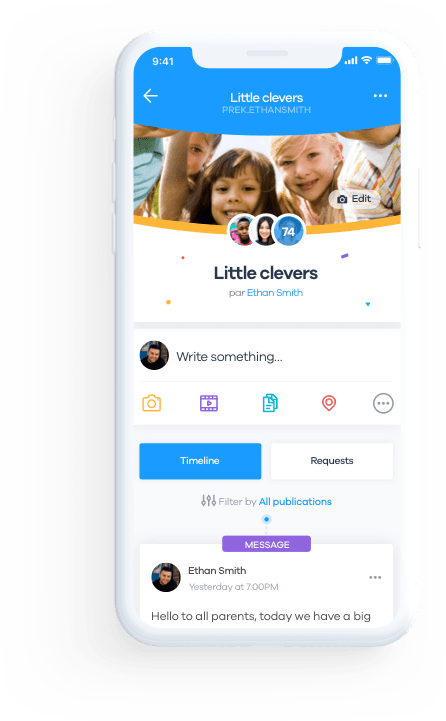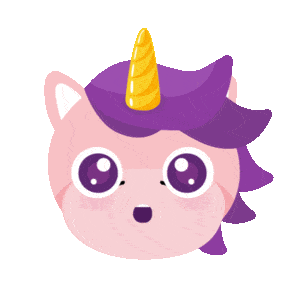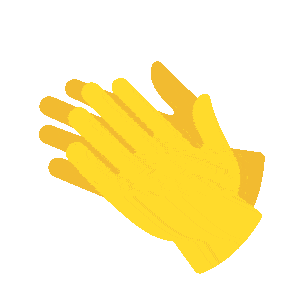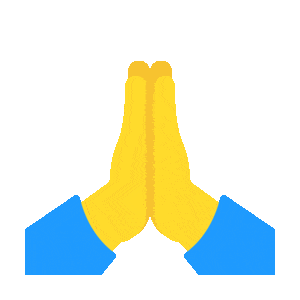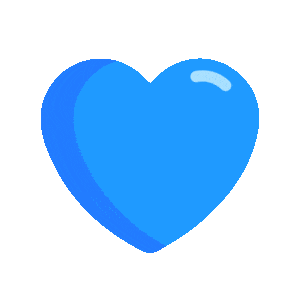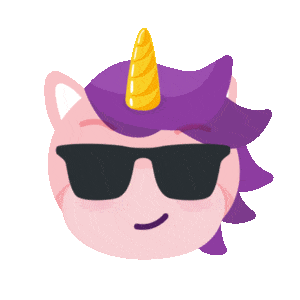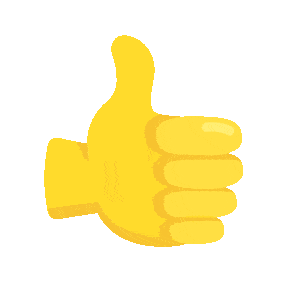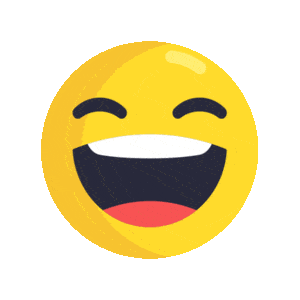 BROWSE YOUR TIMELINE
Share your class moments.
Publish photo, videos, audio recordings, documents, events, polls, to-do lists and even homework! Schedule your posts in advance so you can share information in a timely manner. Check which parents have seen your posts and send notifications to those who haven't. Parents can comment and react to your posts if you allow them to do so.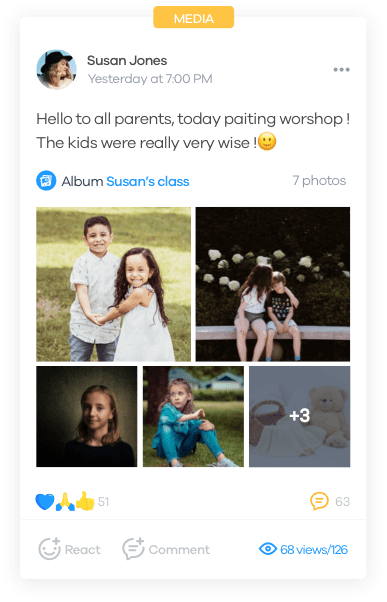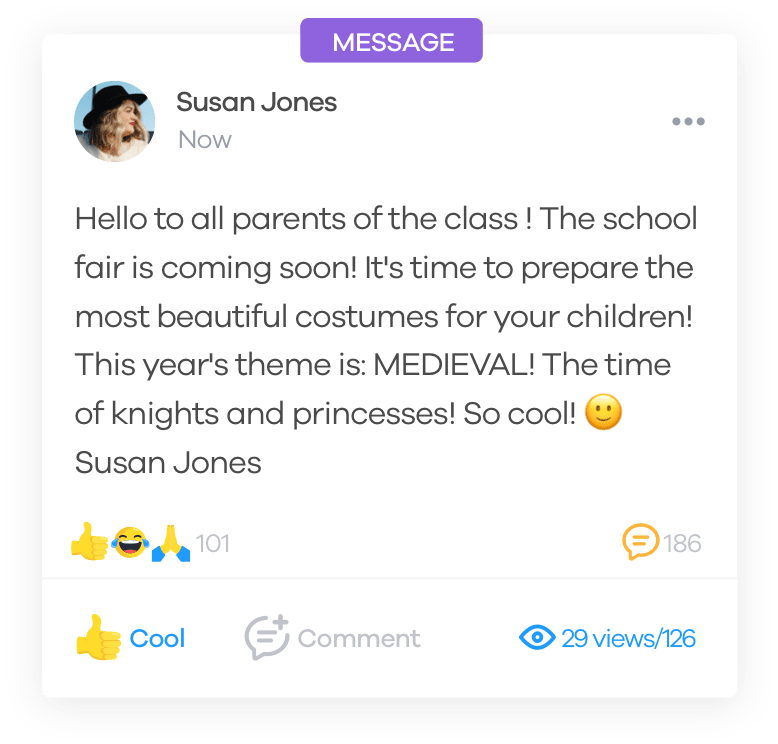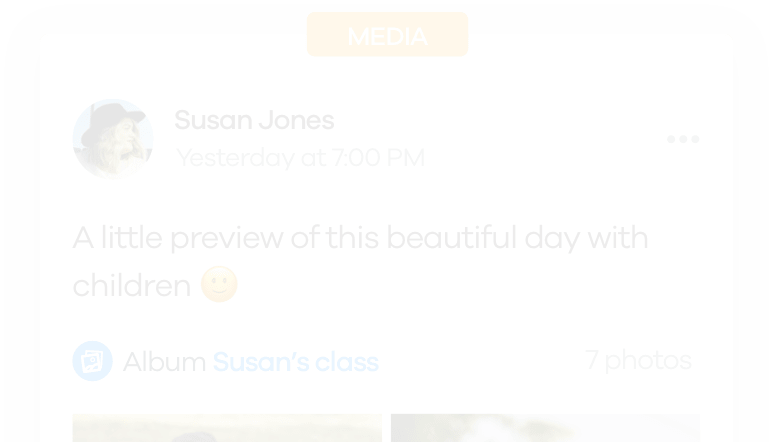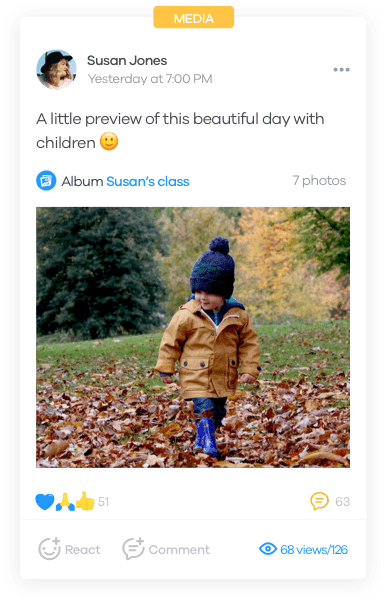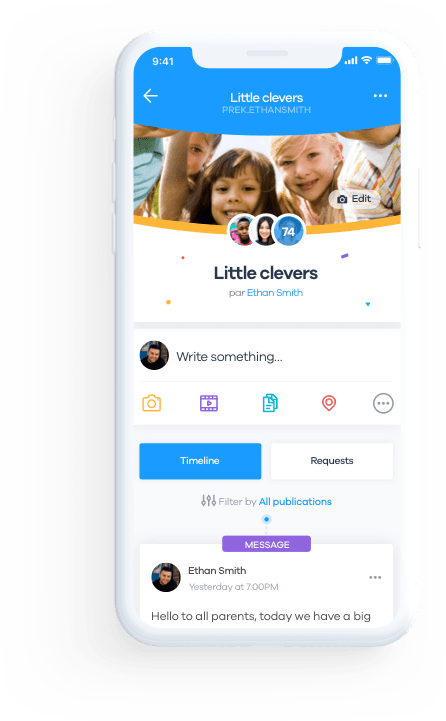 AN INCLUSIVE APP
Gain families
trust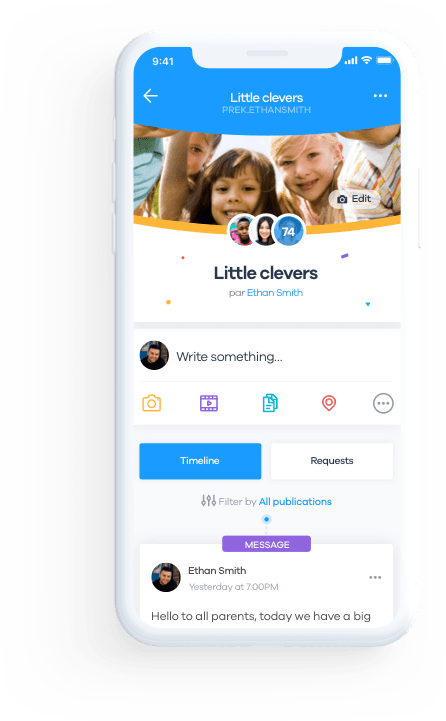 Klassroom is accessible to all! Thanks to our core values to include everyone regardless their social background, every parent has free access to all messages on the web app and the most recent ones on the mobile app.
No family left behind all your messages (in your timeline and in your private chats) will be automatically translated into the family's native language; and vice versa
Visually-impaired parents can use Klassroom with our Voice Over feature (available on iPhone and iPad).
ON ALL DEVICES
Maintain total control over your communication.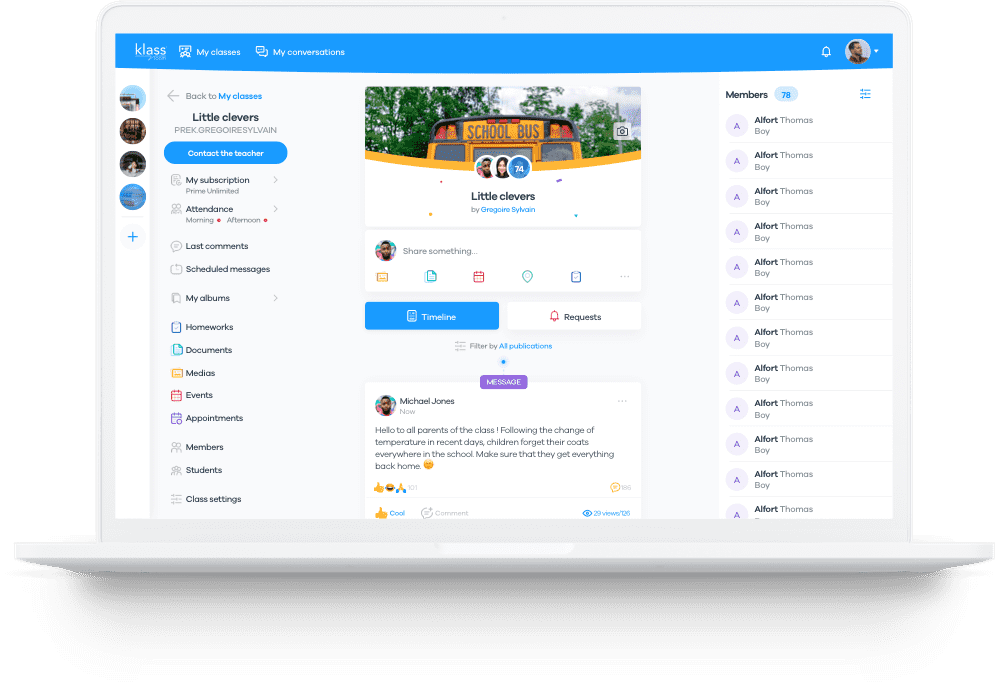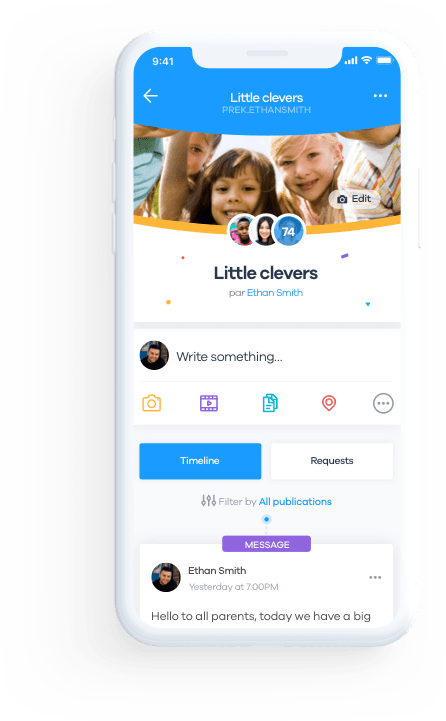 Parents can interact in a structured way with you. Klassroom allows them to report an absence, share important information, request a meeting or ask a question. You have maintain total control control over your communication with parents. Only you can initiate private conversations. Parents can only ask one question at a time. Also, you can manage your availability by activating the "Do Not Disturb" feature.
Some great features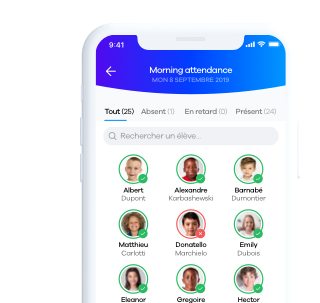 Attendance management

Take attendance in less than a minute.

Create or import student list, take attendance in seconds and download attendance reports easily.
K.Y.S feature

Know Your Students.

It was meeting Dan Levy, a cognitive science expert and professor at Harvard University that inspired us to integrate KYS to Klassroom. KYS is a questionnaire parents can fill out to let you know more about their children. Knowing what makes your students tick can help you steer them towards success!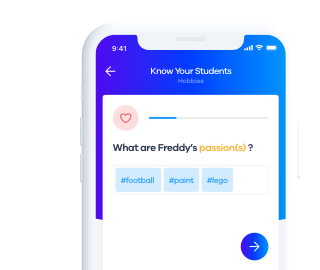 Private chat

Communicate easily

You can initiate private conversations with one or more parents. Through private chat, you can discuss a child's difficulties with one parent or plan the next field trip with parent chaperones.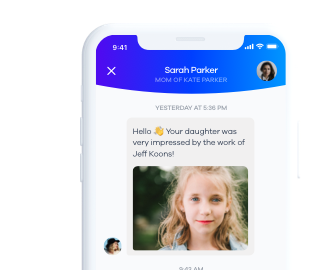 Appointment management

Plan Parent-Teacher conference

Give parents your availabilities so they can chose a time slot that works for them.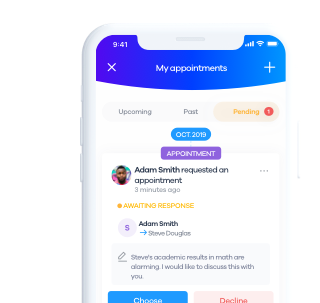 Respect of your datas.
Used only for Klassroom app
All your personal datas are only used for the operation of the application and the various services it offers.
All stays here!
Made in France 🇫🇷
All personal data of our users are stored at OVH Roubaix or AWS datacenter in the Paris region. It's completely safe !
No datas exploitation.
Never transferred or rented
As contractually specified in our general terms and conditions of use, this data will never be transferred or rented to third parties.
No privacy business.
Buy only premium options.
Klassroom's business model is based on the purchase of premium options by parents and/or schools/communities and not on the use of its users' data.