News
Klassroom brings solutions for the entire school : Klassly (Kids+Class+Family) & Klassboard (The Dashboard for school leaders)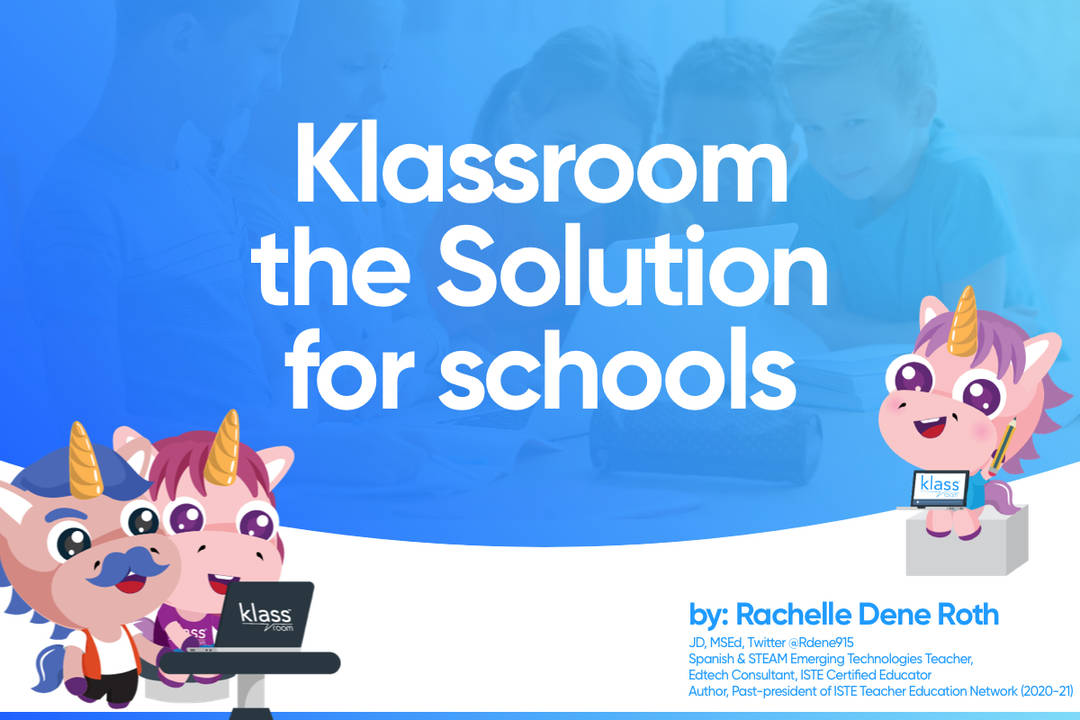 Klassroom: The Solutions for Schools
District leaders must protect the school community by maintaining a safe learning environment while also empowering teachers and families with the right tools to build community and promote family involvement. It is critical to find a robust platform that centralizes school information, offers quality resources, and that will provide administrators and teachers with the resources they need to create a virtual space for their students and families. Klassly is the solution.
Using the Klassly App and the Klassboard enables schools to better support parents and student learning. During the past school year, we became more aware of the importance of communication and being able to reach all parents. Having one space where information is accessible is critical today. Through Klassly, schools are better able to stay connected with parents and provide consistent and reliable communication between home and school. For schools looking for options, Klassly presents an easy to get started with solution to resolve any disconnect between parental involvement and teacher communication.
At the school and district level, being able to provide everything that students and families need through a comprehensive program and in a manner that parents and families choose is important. The entire school community benefits by having a consistent and efficient program in place that meets the needs and preferences of each of its members. So why should schools choose the Klassroom co.?
What makes Klassroom stand out? A centralized space
The first thing that I noticed about Klassly is how easy it is to navigate within the platform. When deciding to implement digital tools, especially those that offer as many features as Klassly, a common question is if there will be a big learning curve. A key feature of Klassly is its simplicity and ease of navigation. Parents, teachers and administrators, whether they are tech-savvy or not, will be comfortable using Klassly and the Klassboard.
With Klassly, you can streamline many of the daily and weekly tasks and communications that are a regular part of school, but that often come in multiple formats and at different times. Klassly unifies everything into one platform that is easy to use and widely accessible. Through the Klassly App for teachers and the Klassboard for school leadership, schools are better able to establish consistency in their communications which will lead to an increase in family engagement and provide all essential resources in a centralized and safe digital space.
Klassboard
If you find that you or your school are using multiple different apps to exchange information and communicate, Klassroom provides all of this and more. Klassroom is available for classroom, district- or school- wide implementation. Through the Klassboard, an easy to navigate platform, principals and administrators can better access relevant data for their schools. Principals can gather all classes in their individual schools and administrators can keep track of the district data as well as each school's data. It is easy to create one manageable space by adding classes to the Klassboard. Administrators can link all of the Klassroom classes of teachers to manage everything in one space and broadcast messages to the entire community instantly. With Klassboard, school administrators can easily communicate with teachers and parents to create a strong and essential partnership between school, families and teachers. Messages can be scheduled and include multimedia options including audio and video, as well as being able to include documents, add a poll or post and schedule events.
Klassboard also helps parents because all information is being sent from the same place, streamlining communication which makes it less overwhelming for parents and easier to find the information and resources they need. Administrators can post notifications to all Klassroom classes simultaneously. Administrators will also find that it is easy to manage their school's attendance. Through Klassboard, you instantly receive important information about a student's late arrivals or absences which helps with keeping parents notified about student attendance issues. Klassboard facilitates timely and relevant communication between home and school through the use of push notifications with real-time interactions. Administrators can access reports which show attendance, parent engagement, number of views and the reach and deliverability of their messages, which makes it easy to identify who has or has not been contacted and enables them to better communicate and connect with all families.
Communication is so important, especially for providing support for student learning and for parents who are helping to facilitate student learning at home. Being able to have conversations and build those essential home to school partnerships is vital. While in-person meetings may not be possible or finding a convenient time to meet can be a challenge, leveraging the robust features Klassroom offers helps with these challenges.
Using the video conferencing feature and the calendar in Klassly makes it easier to stay connected and bring parents together in the learning experience. Posting assignments and important class information through Klasswork helps parents to stay better connected to the learning happening in the classroom.
With district-wide adoption of Klassly, school districts will provide a comprehensive tool that connects families with their child's school and the district, all within one centralized space. Schools are better able to provide a more consistent, effective and reliable way to facilitate higher family engagement and better communication between school and home.
Beyond the Platform: What Does Klassroom Offer?
I appreciate when edtech companies create a unified space for educators, parents, and students to access information when they need it. By providing the right resources, information about members of their team and support for getting started using the platform, Klassroom shows their investment in family engagement and helping to streamline the communication between home and school. With the Klassly app, schools will provide a more consistent, effective and reliable way to communicate, and promote student success and family engagement. It promotes consistency and efficiency in a simplified platform. Learn more about Klassroom and get started with your communication solution today!