News
Klassly, the tool for Special Education, Remote Learning, and the Importance of Parent-Teacher Communication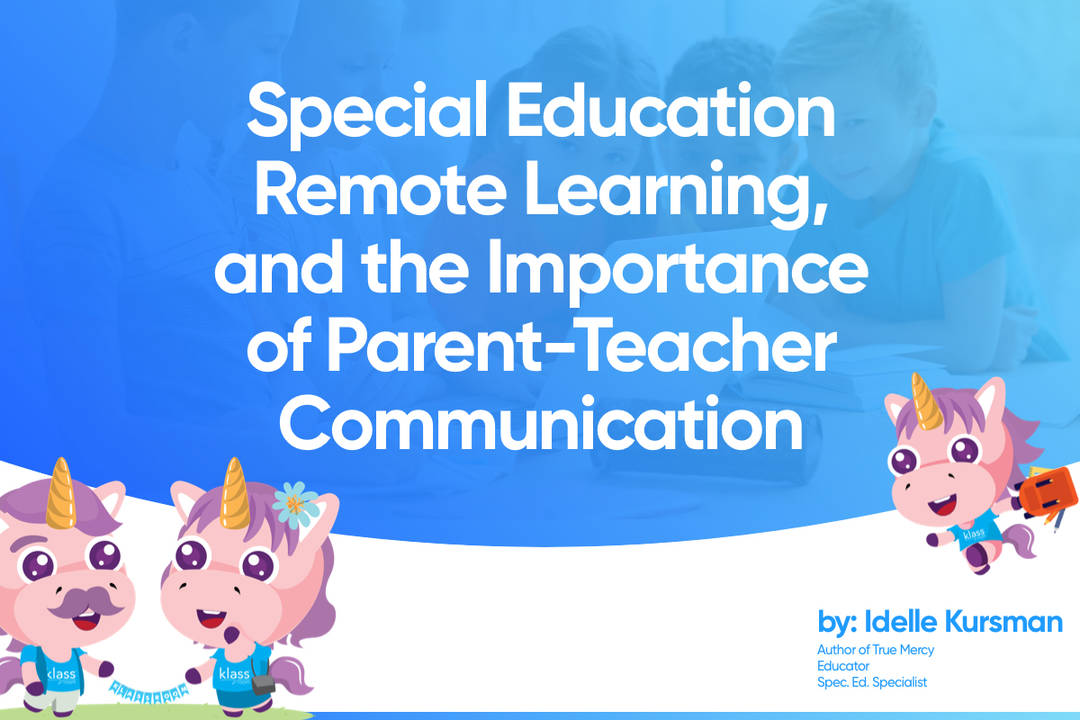 Due to the COVID-19 pandemic we face uncertainty on a daily basis in every area of our lives: our health, our jobs, and our children's education. Experts predict the covid education cliff will disrupt education for years to come (See www.axios.com). Among the population feeling the ill effects the most are individuals with autism. While mainstream teachers and students struggle to adapt to remote learning or a hybrid of remote and in-class, the challenges are even greater for children with autism and their parents. Autistic individuals experience severe difficulties with communication, behavior, and learning; studies have shown their issues improve when given structure and routine. As expected, learning at home, away from the in-classroom environment, is wreaking havoc for these families. A vital ingredient for them to cope in these unprecedented times is parent-teacher communication. Klassroom seeks methods to help parents become active partners in their children's education on the Klassly App.
For this article, I contacted special education teachers at Woods Services, a prominent organization with a long history of providing education for children with intellectual and developmental disabilities. (To see the wide range of services at Woods, go to www.woods.org). Angela Hall is a veteran behavior clinician who provides behavioral support for teachers in the classroom, conducts assessments, and writes positive behavior support plans for Woods students. She reports an increase in parental engagement during the pandemic. In the past, she has communicated with parents about behavioral issues in school, but now that learning is remote, the focus is in the home as many parents observe a regression in their child's behavior: "A major challenge that parents have communicated with me is forming new routines with the child. Our children thrive on routines and schedules, and with online learning it is so unpredictable. It is hard for our students to sit in front of a computer all day. They really need someone there helping and providing them support while sessions are live." Woods teaches families about creating behavior plans for the home, specifically, weekly lessons and resources from the Social Emotional Learning Curriculum entitled "Second Step" (www.secondstep.org). Ms. Hall emphasizes that "providing a schedule and routine will help keep students more on task, limit behaviors, and overall, be easier for the students and families."
Jose Martinez has worked at Woods Services for 8 years. He teaches grades 1 to 4. He also reports an increase in parental involvement during remote learning and even welcomes it: "It's nice to have one to one conversations with parents virtually. Some parents also review the week's work with their child over the weekend. . .Communication is more fluid due to the parent's awareness of the child's work ethic and behaviors." Mr. Martinez noted some of the challenges include beginning classes on time, parents' unfamiliarity with the material, and children missing socialization during lunch, recess, and activities. But this Woods elementary teacher can be counted on for support: "I have helped parents better understand how to support and adjust to their child's learning style and offer advice on supporting their student behaviorally by providing breaks as needed, positive reinforcement, and verbal direction to help them remain on task as needed." Mr. Martinez recommends these additional tips to keep a special education child on task:
Find out what helps the child to calm down.

Reassure them that you are there to help them.

Try making the lessons fun, relatable, and interactive. Students enjoy activities in which they collaborate with others.
Even though he enjoys supporting parents, Mr. Martinez worries about the classroom environment once this pandemic ends. Indeed, the expected losses due to the covid education cliff may have the deepest impact on this population. Since individuals with autism will most probably experience difficulty transitioning back from remote learning to the physical classrooms again, he cautions that both teachers and parents will need a vast amount of patience. "One thing to think about is when schools return to full in school learning, many accommodations that were given during virtual will need to be weaned off. For example, if a student had a personal care assistant (PCA) in school and then did not have one at home, assignments may have had an increase of accommodations. Will the student be able to handle these accommodations being taken away and will the PCA coming back on be able to transition the student back into a normal routine? This raises the question of 'How do we transition back?' with the least amount of resistance."
While all educators must brace for the covid education cliff, educators like these are providing guidance for families of special education students as much as they can with their dedication and efforts to increase parent teacher communication.