News
Why choose Klassly, by Rachelle Dene Proth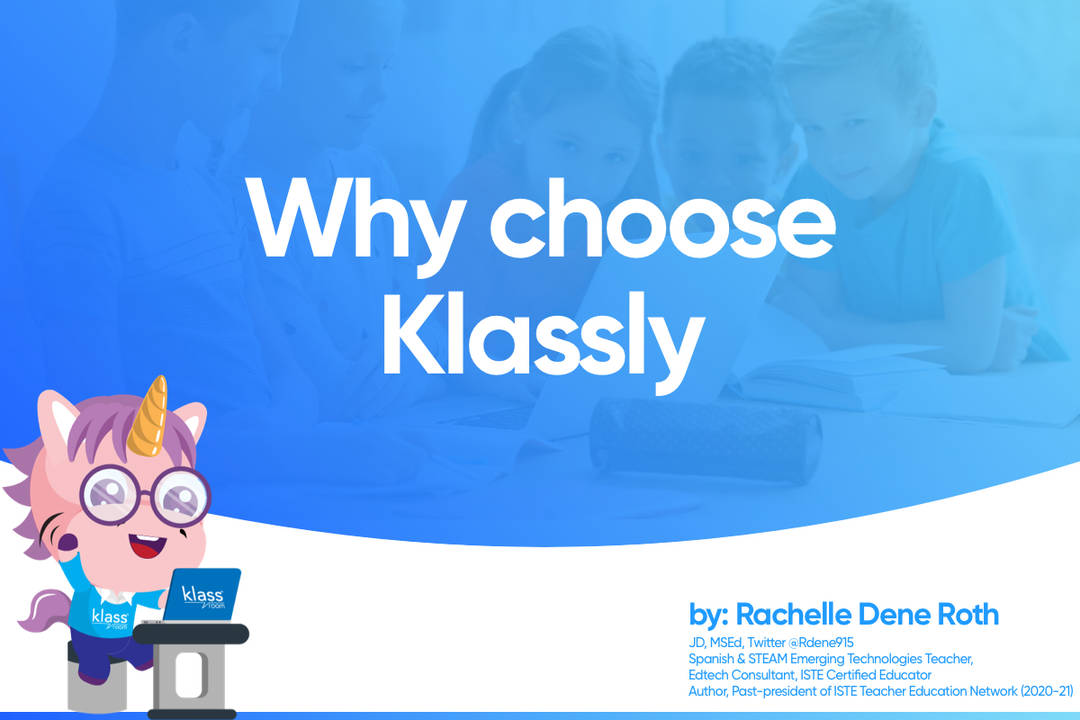 Building a Klassroom Community
It has never been more important to involve families in the education of our students. Making those connections and building family engagement is crucial to student success.
Beyond just involving families, we need to strive for family engagement and work on creating partnerships between school, home and community. Being able to share school news and update families on student progress is critical to classrooms and fostering this sense of "community."
Choosing the Right Platform
There are many digital communication tools available for schools and it is important to choose one that provides quality resources, centralizes class information, and which gives teachers the freedom they need to create a virtual space for their students and families. We want families to be involved and feel connected to the learning that is happening in our classrooms. Klassly, a Learning Experience Platform, provides this opportunity!
Through Klassly, teachers can carry out important tasks such as sending class updates, scheduling conferences and class events, sharing documents, uploading photos, and more. Klassly provides a visually engaging, easy to navigate, centralized space for communicating various types of information to families. I enjoyed setting up my first class in Klassly and exploring all of the possibilities for sharing our everyday learning experiences!
Features
The entire school community benefits by having a consistent and efficient program in place that meets the needs and preferences of each of its members. Klassly offers translation capabilities in over 120 languages, which sets them above some of the other communication tools out there. With this feature, posts can automatically be translated into the family's native language. Accessibility and inclusivity are critical in education.
Klassly enables teachers and parents to communicate through messaging instantly, privately, and as often as needed. The design of the platform makes it easy to take multiple tasks and communicative needs (messaging, attendance, event planner, calendar, homework assignments) that schools and teachers are currently using and unifies them in one easy to use and widely accessible platform.
Classroom updates, important reminders, files and photos can easily be shared, keeping families informed of happenings in the classroom. Teachers can share class activities on the calendar, quickly create an event or set up a meeting for parent-teacher conferences. Klassly facilitates timely and relevant communication between home and school through push notifications with real-time interactions. Teachers can see the reach and deliverability of messages, which makes it easy to identify who has or has not been contacted. Parents can even add comments or react to the posts!
One of the many features I love about Klassly is creating a quick poll. Whether you are looking for ideas for a class activity, asking parents for preferences for conferences or a class field trip, it is easy to set up a poll to share.
Communication is key with Klassly. Private chats between teachers and parents help with getting to know each student and providing the best learning experience for them. Parents can also chat privately with other parents and support one another in a safe, accessible space!
Why choose Klassly?
It is important to create a unified space for educators and parents to build their partnerships and have access to the information they need whenever they need it. Klassly helps to streamline the communication between home and school and leads to a more consistent, effective and reliable way to communicate, and promote student success and family engagement.
By using Klassly, educators can then provide a more consistent, effective and reliable way to facilitate higher engagement and better communication between school and home. You can even schedule posts in advance which makes it easier to consistently share information in a timely manner.
Everything in Klassly has a similar look and feel to platforms such as Facebook, What'sApp and Instagram. Its design encourages parents and families to interact more in the space and work together toward fostering the essential collaborative relationship between home and school. Klassroom is the tool to bring parents and teachers together!
Check out Klassroom today and learn more about the team that designed this learning experience platform and their passion for bringing teachers and families together!