News
Results of a study on collaborative education between Teachers and Families by Klassly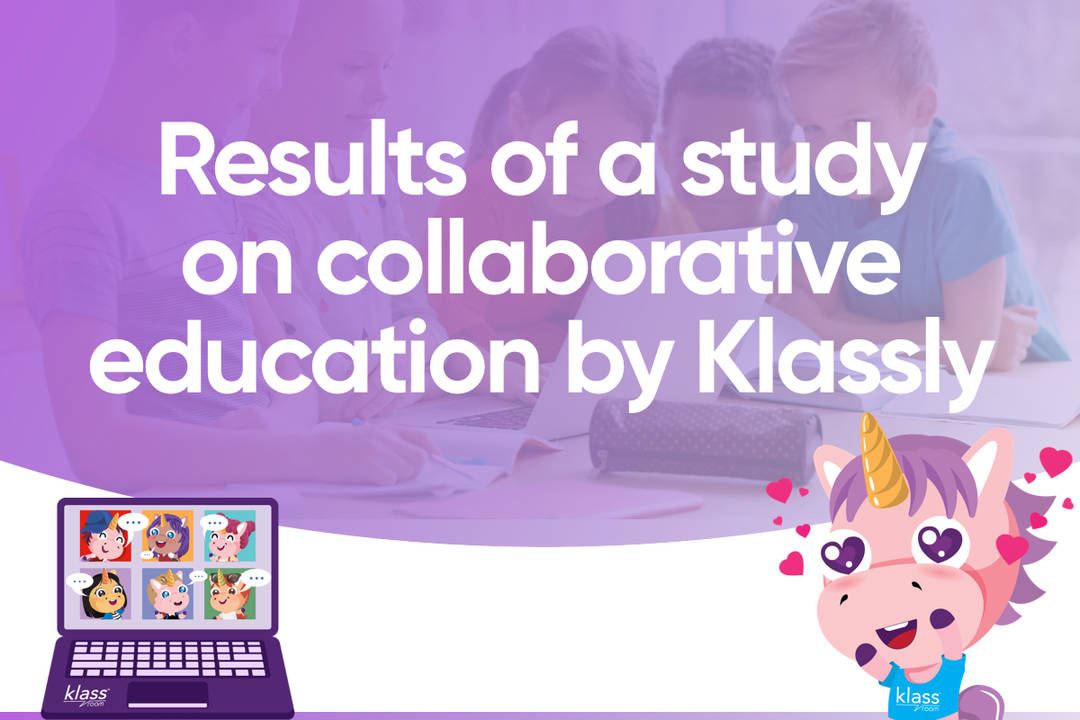 An internal study led by the Klassroom company has brought to light some important information concerning the value of parent-teacher partnerships and the correlation between open communication and students striving in school and at home. We are grateful for the nearly 5000 participants who took the time to answer the following questions.
The main objective of communication is straight-forward. In general, 92% of teachers use the app to communicate general information about school with their students' families, and 92% noticed that Families are better informed about school. 
When looking at what the communication is about, 93% of teachers say they use Klassroom to inform parents about projects, resulting in 95% noticing families are better aware about school projects that students start in class. This is an effective support to the descriptions and accounts young students give to their parents regarding their days at school!
Beyond the use for everyday sharing, there are sometimes last minute or urgent communications teachers need to send home, 89% of teachers said they use Klassly to communicate with families in case of emergencies and 97% of these teachers said they find families are more rapidly aware of the information.
Klassly is interested in promoting and encouraging teamwork, 77% of teachers say they are also interested in Collaborative education (parents and teachers working together), and 69% say they use Klassly specifically to involve Families in their educational projects.
At home support for a child is strengthened by the inclusivity of the app, through which the whole family can be involved. Responsibility need not rest on one family member, as each grownup can have access regardless of their geographic or other personal situation. A stupendous 90% of teachers say Klassly specifically enables parents who are separated to better keep track of their child's academic progress.
For other family situations, in a more general sense, 85% of Klassly teachers find that the app enables families to be better involved in their childs school life, and 1 in 2 teachers say they believe the app contributes to their students increased academic success. Whether this be from the increased schoolwork support at home, the confidence gained from knowing families and teachers are a united supportive team, or the personal commitment children make when they feel their parents might be watching, seeing photos and such, Teachers are seeing something magical happening.
Simply sharing what is being taught in class has involved families in their children's academic growth. Only 40% of teachers use the app to assign homework, which is often assumed to be the easiest way for parental involvement, it's something they can check, proofread, and stay up to date on where in their curriculum the children are. Yet, even without a focus solely on Homework, through the information parents are exposed to on the Klassfeed, families are able to engage with their children on what they are learning. 
80% of teachers find that using Klassroom has encouraged parents to communicate with their children about their work done in school.
For those who do use the app to assign homework, 1 in 2 teachers noticed students turn in their homework more diligently since posting in the Klasswork. Indeed, with simplified access, families can keep track of assignments, and support when necessary.
We asked our teachers if any of them have families with a different first language as theirs, 1 in 2 users confirmed this modern global reality. Understanding there are numerous ESOL (English for speakers of other languages) levelsl, we discovered that 1 in 2 teachers rely on the instant translation feature on the app to communicate with their students' families. 
Families may sometimes have apprehensions about school, either from their own memories or the media's representation of education. Educators are direly undervalued contributors to society. The personal dedication, patience, and professionalism it takes to nurture and ignite a love of learning in children is not innate in most people. Through Klassly, 85% of teachers have admitted to feel more recognition and appreciation for their work, and 86% of them say families prefer this app for school-home communication to any other previous solution.
Engaging families is not easy, but the benefits that the teachers and the students reap are tremendous.
At Klassly we take great pride in supporting teachers in this communication journey, and are humbled to hear our app has been changing the lives of children by bringing their grownups together.We offer tools that increase families' understanding of the importance of school which leads them to support the work of educators, all for the benefit of the children.